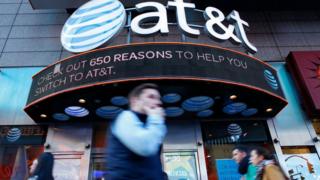 The US government has decided to appeal against a landmark court ruling that cleared the way for telecoms giant AT&T to buy Time Warner.
The ruling was a significant defeat for the US Justice Department, which had argued the deal would lead to less competition and higher consumer prices.
A federal judge rejected those claims last month, allowing the takeover to go through without conditions.
AT&T completed the $81bn (£60bn) deal shortly after.
The company did not immediately comment on the DoJ move.
The deal combined AT&T's mobile, broadband and satellite television businesses with Time Warner's media assets that include the TV networks HBO and CNN.
AT&T argued that it needed that scale to compete with rivals such as Netflix and Amazon.
The rise of the global mega-firms – why the IMF is worried
As a candidate for president, Donald Trump said he opposed the deal, say it would be "too much concentration of power in the hands of too few".
The case had been closely followed as a bellwether for competition regulation in the US, where there is growing concern that a small number of companies dominate many sectors.
The IMF highlighted the issue of "mega-firms" in its recent review of the US economy.
Last month's approval encouraged companies that were considering their own acquisitions.
Comcast started a bidding war with Disney for the entertainment assets of Rupert Murdoch's 21st Century Fox in the days following the court ruling.