SNP MPs have stormed out of the House of Commons chamber during PMQs, after their Westminster leader Ian Blackford was kicked out by the speaker.
John Bercow ordered Mr Blackford to leave after he stood and repeatedly called for parliament to sit in private.
The speaker told him a vote would be called on it but only after Prime Minister's Questions.
Mr Blackford refused to let the matter rest, saying multiple times: "Scotland will not be disrespected by this parliament."
The speaker shouted "very well" and waved his hand as three benches of SNP MPs rose in protest, with choruses of "bye" – although it was unclear from whom.
Joanna Cherry, the party's justice and home affairs spokesperson, appeared to wave on her way out.
"What a pity, because there are SNP MPs who had questions on the order paper," Mr Bercow said afterwards.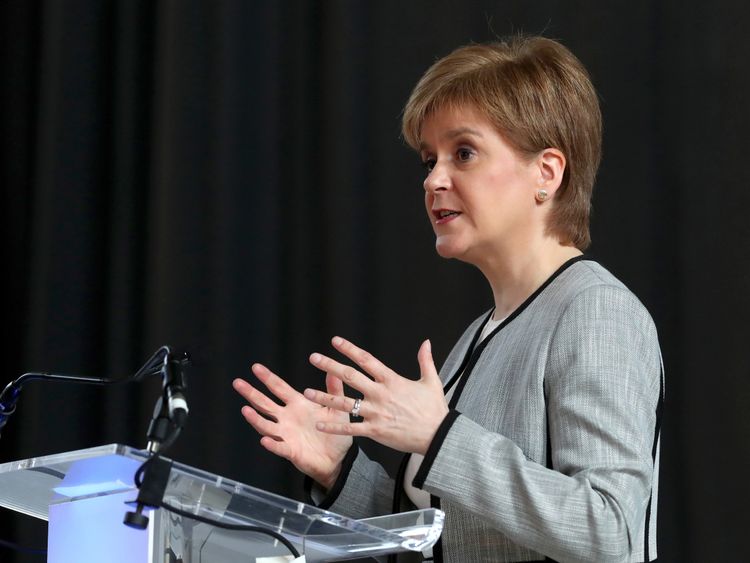 SNP leader and Scottish First Minister Nicola Sturgeon tweeted minutes later that she was "right behind" her party's MPs.
She claimed Scotland and Holyrood were "being treated with contempt by Westminster – and it needs to be highlighted".
Mr Blackford spoke to the media from outside parliament afterwards, claiming it was "no stunt".
An SNP source also told Sky News the protest was "spontaneous" – not pre-planned.
But Alberto Costa, a Tory MP and advisor to the Scotland secretary, called the move "an embarassment for Scotland".
"They abused the proceedings of the House of Commons with this ridiculous stunt," he told Sky News.
More follows…